We have 3 levels for our Pie Eating Contest
THE PIE EATING CONTEST
     If you want to enter the junior or senior pie eating contests you should sign up at the Headquarters Tent.  There are only 9 seats in each of the junior and senior races, so don't delay!   Just imagine you could enjoy your very own chocolate pudding pie! As the winner you will hold your claim of Fame for the next year.
The Braham Ambassador Pie Eating Challenge: we ask that Ambassador groups please leave a message at 320-396-4956 telling us where you are from and how many girls will be joining us for the pie eating contest – this will help us better prepare for your chocolate pudding pie!!
We ask that you be at least 15 mins ahead of your scheduled pie eating time!!
And don't forget there will be lots of people watching & cheering you on!
5:00 P.M.   Jr. pie eating contest 15 yrs. and younger.
 5:15 p.m. Sr. pie eating contest 16 yrs. old and up.
5:30 p.m. Braham Ambassador Challenge pie eating contest.
Don't delay sign up early at the Pie Day Headquarters Tent on Pie Day –
2022 Pie Eating Contest Winners
1st place Jr Level – Marlin Schleicher
1st place Sr. Level – Wayne Seiberlich
Ambassador Level- Aubrey Princeton Ambassador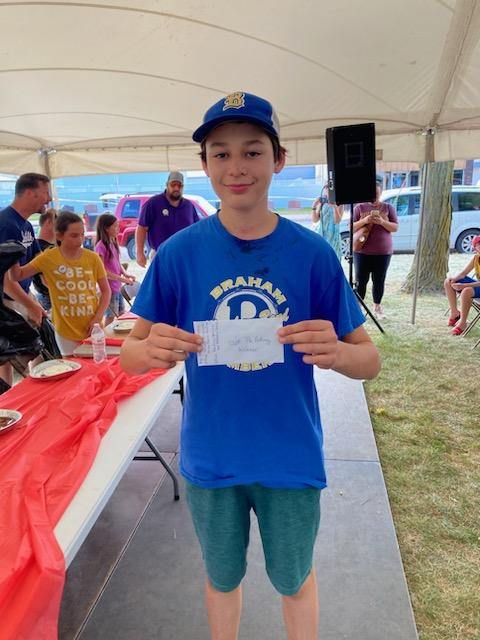 Thank you to the Braham Ambassadors and all the traveling Ambassadors for your participation at the Pie Eating contest.