The BACK committee (Braham Area Committee for Kids) which is a 501 © 3 non-profit Organization. B.A.C.K.'s fundraising efforts help to meet a variety of needs for all kids in the Braham Area Community.
As a fundraising event during Pie Day B.A.C.K. organizes & manages the pie baking contest. B.A.C.K. searches for the celebrity judges so that bakers can get feedback about their pies from people in the know. The pies are then auctioned off. Services donated by Smith Auction.
This year's Celebrity Judges were
Mary Jane Miller of "Mary Jane Cooks"
Meredith Deeds, consultant for Betty Crocker Test Kitchens
Rose McGee, Founder of "Sweet Potato Comfort Pie"
Sara Hayden, Owner of "Sara's Tipsy Pies"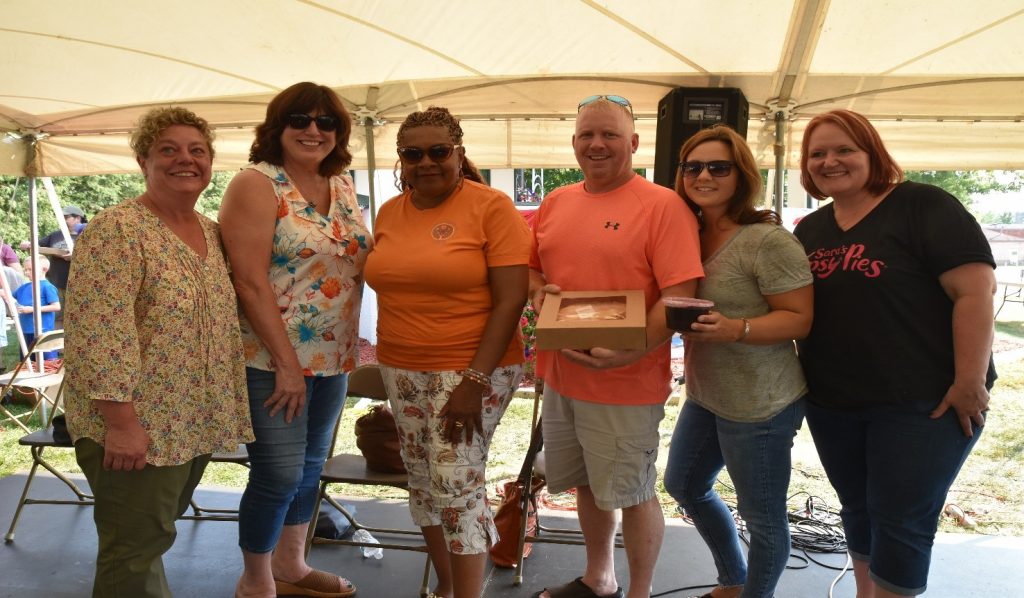 Pie Day Baking Contest Registration 
                                                                 Entry Fee: $5.00 per pie
Bring Pies between 8:00am and 10:00am
to the Braham Evangelical Lutheran Church
905 West Central Drive, Braham
Pie Categories:
1) Fresh Fruit & or Cream
2) Baked Single crust (includes custard)
3) Baked double Crust
4) Children's (8-12 years old)
5) Apprentice (13-17 years old)
6) Lifetime Achievement (70 + years: pie Baker's option)
Pies submitted including pie and pie tin/plate & recipe will become the
property of Braham Pie Day once registered for the contest and are not returnable.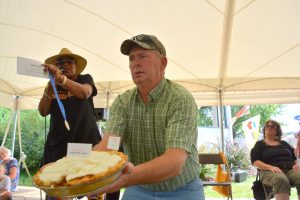 Pie Auction at 3:00 pm
           2021 Pie Day Baking Winners
Fresh Fruit/Cream:
1st Place:  Andrea Bruce-Strawberry Lemon
2nd Place:  Pam Burmaster-Honey Lemon Chiffon
Baked Single Crust:
1st Place:  Steve Dopson-Pumpkin Peach
2nd Place:  Carol Marsh-Key Lime Pie
Baked Double Crust:
1st Place:  Steve Dopson-Pumpkin Peach
2nd Place:  Deanna Truehart-Team USA Cherry Berry 
Children's:
1st Place:  Penny Giebel-Lemon Strawberry Cream
2nd Place:  Gwendolyn Sinclair-Blue Unicorn Pie
Apprentice:
1st Place:  Ilia Eiden-Key Lime Pie
2nd Place:  Klein Eiden-French Silk Pie
Lifetime Achievement:
1st Place:  Cookie Heikes-Blueberry Pie
2nd Place:  Arlen Houska-Banana Streusel Pie
GRAND CHAMPION-BEST OVERALL PIE:
Kori Olson-Peach Pie with Saucy Blueberries
1st Place Children's Pie – Gibson Eiden $50.00
Lifetime Achievement Pie- Lana Regal $100.00
Pie of the Month – Marion Larson $500.00
Gordon Stone Memorial Pie – Patti Lind $150.00
Grand Champion Pie- Carrie Mortrud $500.00 & Janelle Walker $500.00
The following are awarded in each division:
FIRST PLACE: $30.00 cash and commemorative medallion
SECOND PLACE: $20.00 cash and commemorative medallion
And a single award of:
GRAND CHAMPION: Overall Best Pie of the contest, $50.00 cash and commemorative medallion
2021 Pie Day Baking Entries and Winners